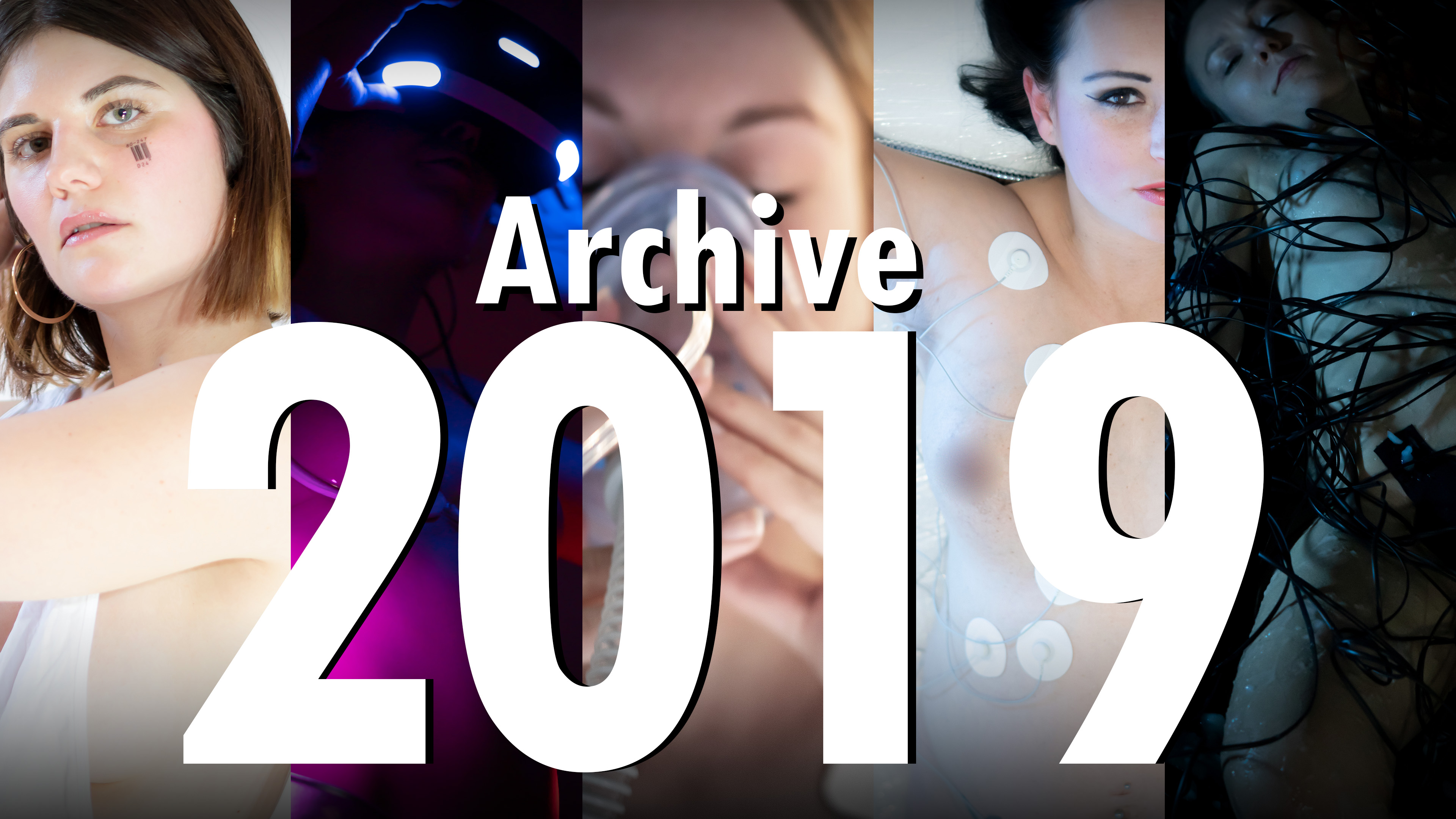 Archive 2019
All releases of the year 2019 that don't have their own page. The gaps in the numbering have been polished and got their own projects to download.
Models: Felice Siana, MaggieW, Delir / Anne Rosenbaum, Kira Valentina
The original publishing platform was Dropbox Showcase. If you are interested in the story bits check out the files that are named Story HTML Backup. Open the file in a browser so you can see how everything looked on that platform. If you are only interested in the media just download the files marked Photos or the video files.
All photo sets are connected by a small ongoing story set in a parallel timeline. The Intravenus Project researches technology of unknown origin (exotic technology / exotek) with the help of participants, voluntary test subjects. The antagonist of the Project is Organization 101 which believes that exotek is the key to a divine prophecy.
The style of the releases is eerie tech eroticism. A little bit of technophilia, a little bit of medical fetish. Thank you to the models for performing in these sets and thank you for the all the good people who supported the Project in 2019.
Dollar Store Cybergirl
Felice sits at the computer with a neck interface module.
Become whole again
Kira in the bathtub absorbing a strange piece of exotic technology.
Tu Fui / Ego Eris
Maggie with barcode tattoos, plugs and breathing mask undergoing an AI experiment.
Electric Angel
Kira with electrodes stuck in a virtual space.
A Dream of Plugs and Roses / A Dream of Lights and Bass / A Dream of Barcodes and Lasers
Felice tells three technophile dreams, being connected to electrodes, playing a VR game in a transparent bra and lying in the bathtub with barcode tattoos connected to wires.
Digital Opium / Digital Wonderland · Digital Underworld
Anne gets into contact with Organization 101 and a piece of exotek that overpowers her. Wires and barcode tattoo.
Harmless Acts of Happiness 1 - Bad Hair Day
Experiment with Kira in different styles.
Intensive CARe
Kira pregnant and connected to a machine with plugs and breathing mask.
Harmless Acts of Happiness 2 - The Matrix Unplugged
Felice covered in cables and tubes in a tribute to the movie The Matrix.
Christmas Special
Experiment with a puppet that is usually used for posing and lighting tests.
Download
Click download now to get access to the following files:
1x14 - Dollar Store Cybergirl – Story HTML Backup
1 MB
1x14 - Dollar Store Cybergirl - Felice Siana - Photos.zip
40 MB
1x15 - Don't you want to become whole again - Story HTML Backup
4 MB
1x15 - Become Whole Again - Kira Valentina - Photos
237 MB
1x17 - Ego Eris – Story HTML Backup
3 MB
1x17 - Ego Eris - MaggieW - Photos
239 MB
1x17 - Org101 Costume Test - MaggieW - Photos
45 MB
1x17 - Birthday Suit - MaggieW - Photos
53 MB
1x18 - Electric Angel – Story HTML Backup
2 MB
1x18 - Electric Angel - Kira Valentina - Photos
140 MB
1x18 - Feet! - Kira Valentina - Photos
65 MB
1x19 - A Dream of Plugs and Roses – Story HTML Backup
4 MB
1x19 - A Dream of Plugs and Roses - Felice Siana - Photo Set
287 MB
1x20 - Tu Fui – Story HTML Backup
2 MB
1x20 - Tu Fui - MaggieW - Photos
199 MB
1x21 - A Dream of Lights and Bass – Story HTML Backup
3 MB
1x21 - A Dream of Lights and Bass - Felice Siana - Photoset
198 MB
1x21 - Prototype J - 4D / UHD / 2160p Video
851 MB
1x21 - Prototype J - HD / 1080p Video
183 MB
1x21 - Prototype J - SD / 540p Video
38 MB
1x22 - Digital Opium – Story HTML Backup
4 MB
1x22 - Digital Opium - Delir - Photos
620 MB
1x24 - A Dream of Barcodes and Lasers – Story HTML Backup
5 MB
1x24 - A Dream of Barcodes and Lasers - Felice Siana.zip
634 MB
1x26 - Harmless Acts of Happiness _ Bad Hair Day – Story HTML Backup
4 MB
1x26 - Harmless Acts of Happiness I - Bad Hair Day - Kira Valentina - Photo Set
178 MB
1x27 - Digital Wonderland - Digital Underworld – Story HTML Backup
5 MB
1x27 - Digital Wonderland · Digital Underworld - Delir - Photos
293 MB
1x28 - Intensive CARe – Story HTML Backup
3 MB
1x28 - Intensive CARE - Kira Valentina - Photos
251 MB
1x29 - Harmless Acts of Happiness 2 - The Matrix Unplugged – Story HTML Backup
3 MB
1x29 - Harmless Acts of Happiness 2 - The Matrix Unplugged - Felice Siana - Phot
168 MB
Christmas Special - Story HTML Backup
2 MB
Christmas Special - Manny Quinn - Photos
88 MB